5 Ways to Cook Fresh Fish at the Campground
Ann Gibson, Thu Jul 18 2019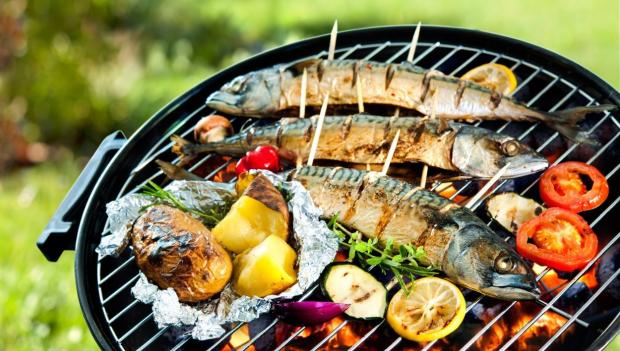 If you love to catch your meal fresh out of the water, an outdoor camping getaway combining the solitude of a mist-shrouded lake or stream at sunrise and succulent, flaked fish filets hot off the grill is a dream come true. Whether you choose to cast your fly for Adirondack trout, drift across a deep lakebed to hook a trophy Carolina slab or cast a baited jig for Big Sky walleye, it's the serenity of the water and the promise of a delicious meal that gets you going.
Many state parks cater to serious anglers with fish cleaning stations, day-use and campsite grills, and public picnic areas. Some parks sell bait, offer boat rentals and even have rod and tackle loaner programs. Add a few accessories to your outdoor camping kitchen, like a cedar plank, fish grill basket and cast iron skillet to whip up gourmet recipes in the wild that will impress even the pickiest eaters.
Add a dash of gourmet seasoning and technique to your rod-to-table catch with these recipes you can prepare on the grill, over the campfire or on your camp stove.
---
1. Fried Fish Camp Crappie
Type of Fish: Crappie
This buttermilk-battered, Southern-fried favorite is a satisfyingly crunchy finger food for a picnic by the lake. Combine buttermilk, eggs and hot sauce in a bowl. Soak fillets in the buttermilk mixture for two to four hours. Combine flour, cornmeal, garlic powder, onion powder, kosher salt and black pepper in a plastic kitchen storage bag. Gently drop fillets in the bag and shake to coat. Heat peanut oil to 425 degrees in a Dutch oven over the grill or campfire, then drop fillets into the hot oil. Oil must be preheated. Cook through until golden brown and remove from heat to dry on oil-absorbing paper.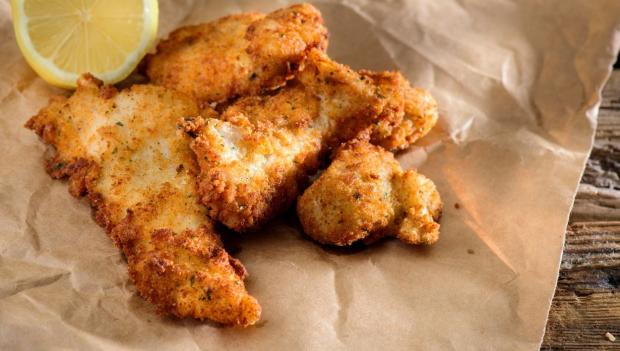 ---
Recommended: 9 Great Campgrounds for Summer Fishing
---
2. Steak of the Sea with Herbed Marinade
Type of Fish: Striped Bass
This meaty striper filet shines with a side of roasted root vegetables hot off the coals. Combine thyme, oregano, garlic, lemon juice and pepper in a bowl. Add fish, turn to coat and marinate for 30 minutes. Spray a fish grill basket with non-stick spray and place filets inside. Put the basket on a preheated medium-high grill, skin side down, and season with salt. Grill until the filet skin is light brown and starting to crisp. Flip the basket over gently and continue cooking until filets are opaque. Garnish with chives and lemon wedges. Other meaty fresh fish alternatives include trout and grouper.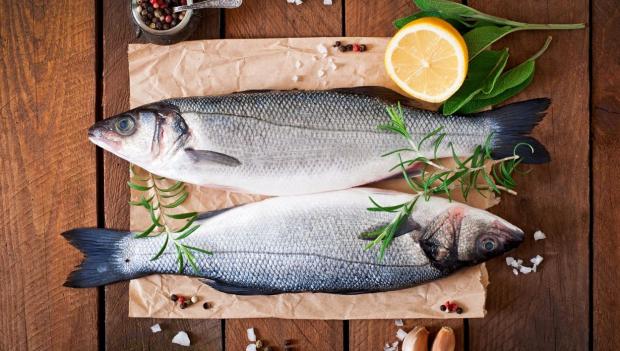 ---
3. Citrus Trout in a Blanket
Type of Fish: Rainbow Trout
Delicate with a sweet flavor, rainbow trout can easily be overcooked. Protect your catch from high heat and open flames by seasoning the cavity with salt, pepper and sprigs of fresh rosemary and oregano, adding thin slices of lemon, and wrapping the cleaned trout in bacon or pancetta. Cook over your campfire in a cast iron skillet until meat is browned and crisp, then use a spatula to turn fish over to cook through. Add lemon slices and to the skillet in the final minutes for more intense citrus flavor.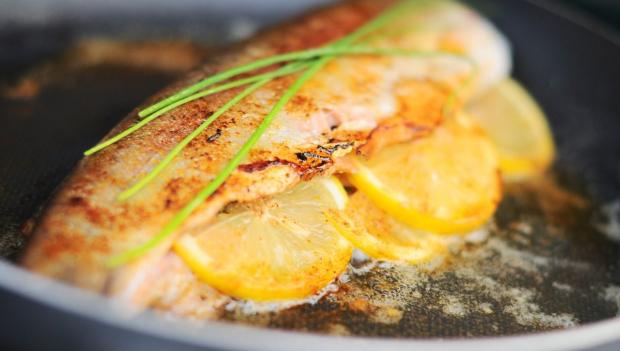 ---
Recommended: 9 Refreshing Lake Camping Experiences
---
4. Blackened Firecracker Catfish
Type of Fish: Catfish
Combine sweet paprika, oregano, thyme, cayenne, sugar, salt, black pepper and onion powder for your blackening spice blend. Dip fillets in melted, unsalted butter, then dredge both sides in the spice blend to coat. Heat a cast iron skillet to high, add a dab of butter and place fillets in the pan for two minutes. Use a spatula to gently flip fillets and continue to cook two to three more minutes. Blacken the fillets in batches so they don't crowd the pan and break apart. Spices will form a dark, rich crust in shades of red to black. Substitute other thin and flaky fillets like perch or snapper for an equally tasty meal.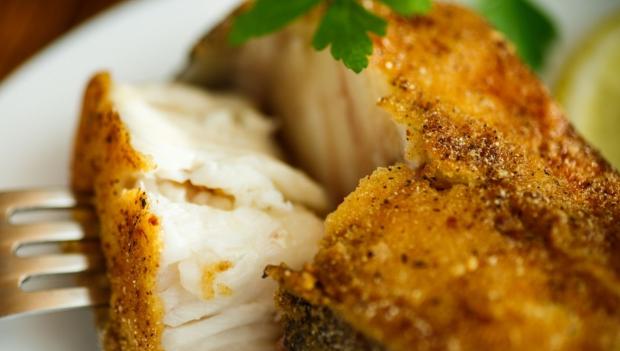 ---
5. Plank-Grilled Pecan Walleye
Type of Fish: Walleye
Mild and flaky walleye filets take on added richness when grilled on white wine-soaked cedar planks. While soaking the planks, combine soft (not melted) butter, orange juice and chopped, toasted pecans. Preheat the grill and line it with aluminum foil cross-cut with slits and brushed with olive oil. Rinse the filets gently, then place on the grill. Sprinkle with salt and pepper and cook to an internal temperature of 140 degrees. Top with pecan butter, remove from heat and sprinkle with additional toasted pecans.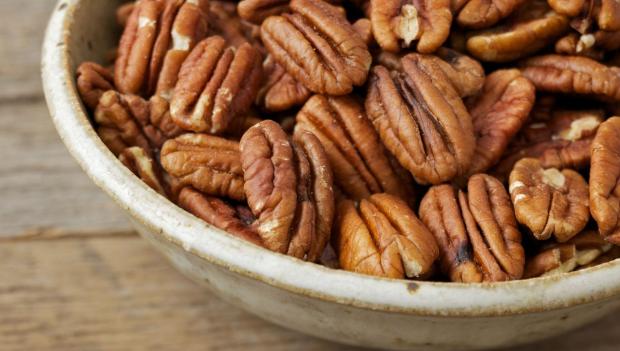 ---