Great Regional Camping in Kentucky
ReserveAmerica, Fri Apr 14 2023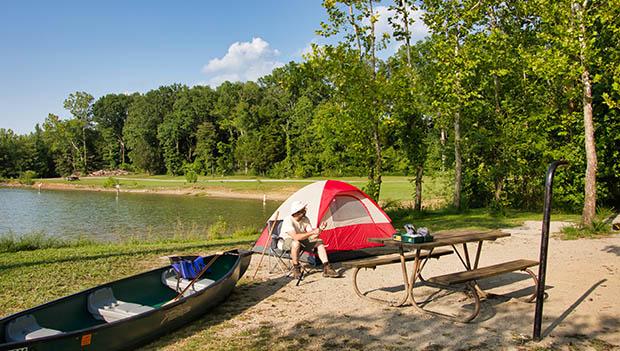 Kentucky is a unique state home to world famous horse racing, some of the best whisky in the country, and natural beauty found in state parks. With so much to do around the state, we've highlighted several of the state parks and activities in five regions to help plan your visit.
---
Western Region
The western side of Kentucky offers the following four unique state parks with amazing water views, wildlife sightings, and activities for the whole family. Check out the options below and plan a local staycation with us.
Explore Columbus-Belmont State Park
Columbus-Belmont is an important part of Kentucky and U.S. history. This state park is a stop along the Kentucky Great River Road National Scenic Byway, a National Trail of Tears Site, and part of the Civil War Heritage Trail. Check out the museum for more information about the area, have lunch at the snack bar, and relax in the picnic area. Take time to explore the trails running through the Civil War earthworks and see the large anchor and chain along the Mississippi River. The campground is open year-round overlooking the river providing soothing sounds throughout the night. Reserve Today
Play at Kentucky Dam Village State Resort Park
Kentucky Dam Village is a great state park to visit as the temperatures rise. Bring your boating and fishing gear to the marina. Rent a boat and try your luck catching bluegill, channel and blue catfish, crappie, sauger, and bass. Or relax at the only sand beach open for swimming on Kentucky Lake. There are 66 campsites, and the park is pet friendly. Make a Reservation
Stay at Kenlake State Resort Park
Plan a day exploring Kenlake along three nature trails. Throughout the year the park offers excellent birding with over 150 species calling Kenlake home. Take time for a picnic, kids will love the playground facilities, and there are tennis courts for those who love friendly competition. The 90-site campground offers standard utility hook-ups and a service building with showers and restrooms. Reserve Your Spot
Discover Lake Barkley State Resort Park
Lake Barkley offers a perfect local getaway with plenty of activities for the entire family. On site is an 18-hole golf course with pro shop. There are six miles of hiking and biking trails that connect to the Land Between the Lakes. A marina with launch ramp is nearby for water access and fishing licenses. The park lodge and nearby fitness center offers racquetball, tennis, water aerobics, and a restaurant. There are 79 sites at the campground to pick your spot under the stars. Book Now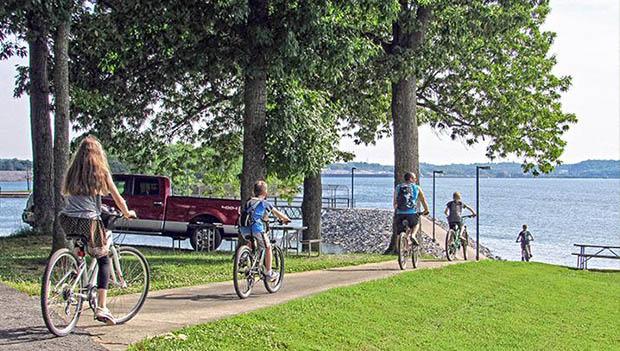 ---
Northern Region
In the northern tip of Kentucky, you'll find four unique state parks at the Indiana and Ohio borders. Visit one or make a multi-day trip to visit all four state parks. They are all just under one hour from each other making a fun road trip this year.
Enjoy Scenic Views at General Butler State Resort Park
Enjoy a relaxing day at this hilltop state park overlooking the confluence of Kentucky and Ohio Rivers. Explore the resort grounds including the CCC structures, and Butler-Turpin Historic home and museum. After a day of mini golf, pedal boating, or kayaking at the boat dock, warm up to the campfire at one of the 100 campsites with utility hookups, grills, and nearby showers and restrooms. Reserve Today
Visit Bison at Big Bone Lick State Historic Site
Big Bone Lick is a great park for the entire family. It's a special place for the kids to learn history, science, and environmental education through scheduled field trips and outreach programs. Check out the museum exhibits, visit the bison, and Magafauna diorama pit. After a full day you'll want to stay at the campground. It offers utility hookups, grills, and nearby restrooms, showers, laundry, mini golf, and grocery store. Make a Reservation
Plan Outdoor Activities at Kincaid Lake State Park
Have an adventure at Kincaid Lake State Park. Explore the 180-acre lake in a kayak or pedal boat rental or fish from the shoreline for largemouth bass, channel catfish, bluegill, sunfish, and crappies. The open woodland campground offers quiet seclusion and acts as a home base for basketball, tennis, volleyball, mini golf, swimming pool, and 2.25 miles of hiking trails. There is a central building with restrooms and showers, as well as a nearby playground. The Country Store offers groceries and souvenir items. There is fun for everyone. Reserve Your Spot
Take a Hike at Blue Licks Battlefield State Resort Park
Throughout history, the salt springs at Blue Licks has attracted prehistoric animals, Native Americans, and pioneers. Explore this state park's five miles of historic trails including the River Trail near the site where Daniel Boone and his men were once captured by Shawnee Indians, and the Buffalo Trace hiking trail (.2 miles) including the trampled remains of an ancient buffalo path. The park also offers rental kayaks (coming soon), miniature golf, fishing, and meeting spaces for large groups. Enjoy a night under the stars at one of the 51 campsites with utility hookups, a dump station, and a central service building with showers and restrooms. Book Now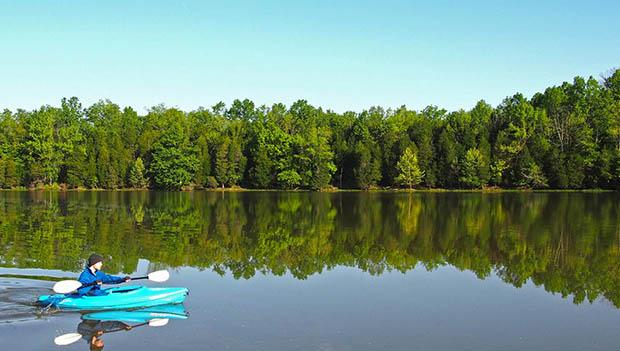 ---
Northeastern Region
In the northeastern section of Kentucky is part of the Country Music Highway following the West Virginia border. Several state parks are along the route including scenic views and recreational activities to inspire you to stay.
Hit the Green at Grayson Lake State Park
Golf lovers will rejoice while spending the day at the Grayson Lake State Park golf course. It is situated around the scenic lake with bermuda grass and rolling fairways for all levels of players. And if you needed any more reason to play, the 18-hole championship golf course was rated #4 by Golf Digest! Stay at the 71-site campground including utility hookups, dump station, and nearby amenities. Reserve Today
Boating Fun at Greenbo Lake State Resort Park
Start planning your boating trip at Greenbo Lake! The 225-acre lake is perfect for no wake adventures. The marina offers hourly rentals for kayaks, canoes, pontoons, pedal boats, and motorboats. Pick your ride and spend the day fishing or enjoying the scenic surroundings. The campground is open year-round and offers nearby showers, restrooms, and convenience store. There are 79 utility sites and 24 primitive sites to choose from. It's a great basecamp for family members who prefer to stay on land for a day hiking the trails. Make a Reservation
Private Boat-in or Hike-in Sites at Yatesville Lake State Park
Try a unique camping experience at Yatesville Lake State Park! For those who prefer a private adventure away from the crowds, take the scenic route to your campsite by boat or foot. Select from 16 lakeside campsites with spectacular views in a wooded setting. There are picnic tables, nearby restrooms, and hiking trails to explore the surrounding area. Don't forget your fishing license and stop by the marina store for supplies. Reserve Your Spot
Underground Tours at Carter Caves State Resort Park
Carter Caves offers two tours you don't want to miss! Check out the famous Cascade Cave tour to learn the history and cave ecology, or the X-Cave tour offering further exploration of two narrow side passageways. Make sure to arrive early and buy tickets 15-minutes before the tour starts to secure your spot. After the tour you have additional activities around the park including a climbing area, miniature golf course, wooded nature trails, and mining for gemstones. With so much to do, you'll want to stay at one of the cottages or campground. Book Now
Peaceful Getaway at Paintsville State Park
A peaceful retreat with scenic views is the main attraction to Paintsville State Park. Bring your camera to admire the surroundings along the lakeside walking path, fishing gear for a day on the lake, and a book to relax at your campsite. The campground is set in a beautiful, wooded area not far from the shoreline. Amenities include utility hookups, showers, restrooms, laundry, waterfront picnic tables, playgrounds, and a new wheelchair accessible kayak launch and fishing boardwalk. Book Now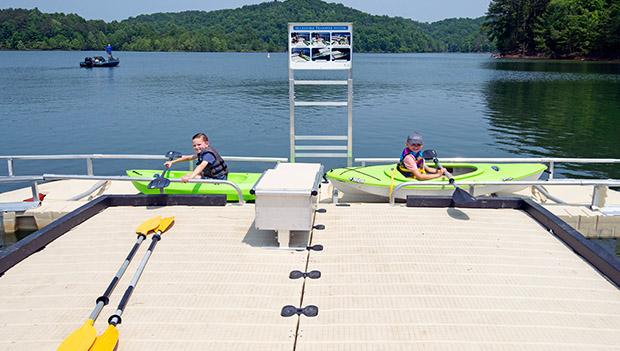 ---
Recommended: Kentucky State Parks Camping Bucket List
---
Central Region
South from Louisville are four state parks worth a visit this summer. You'll experience unique state history about Daniel Boone, cool off at the lakes, spend the afternoon exploring the trails, and be entertained by a musical.
Enjoy Peaceful Taylorsville Lake State Park
Just 45 minutes from Louisville is peaceful Taylorsville Lake. The state park is a favorite of both wranglers and anglers to get away from the city. Bring your fishing gear to vie for bass, bluegill, and crappie. A marina is available with supplies, boat rentals, and a full-service deli. Explore the 24-mile trail system for hiking, biking, and horseback riding. Stay at the campground with electric and water, primitive, and equestrian sites. There are two central service buildings with laundry and two nearby playgrounds for the kids. Reserve Today
Tour Fort Boonesborough State Park
Drive 1.5 hours from Taylorsville Lake to Fort Boonesborough. Plan a fun-filled day touring the site and museum. The state park's main feature is the working fort complete with resident artisans who perform craft demonstrations and give visitors a sense of what life was like for pioneers in Kentucky. Additional activities include boating and fishing in the river. The campground offers sites with electricity and water hookups, two central service buildings, three dump stations, and WiFi. Make a Reservation
Explore Green River Lake State Park
Continue your road trip another two hours from Fort Boonesborough to Green River Lake. This state park is a recreational paradise in south-central Kentucky. Hike, bike, or horseback ride 28 miles of all-purpose trails. Fish on beautiful Green River Lake for white, largemouth, smallmouth, and Kentucky bass, bluegill, crappie, and muskie. Play the 18-hole miniature golf course with the family. Spend the afternoon at the beach to swim or play volleyball. With so many options you'll want to stay overnight at one of the 167 RV or 60 primitive sites. Reserve Your Spot
Discover My Old Kentucky Home State Park
My Old Kentucky Home State Park is one hour from Green River Lake and about 50 minutes from Louisville. Admire the beautiful stately mansion and grounds with a picnic area including grills and playground. Make a reservation to experience Kentucky's longest-running outdoor musical drama "My Old Kentucky Home". Test your golfing skills on the 18-hole Kenny Rapier Golf Course and visit the pro shop. Enjoy a night under the stars at one of the 39 campsites with utility hookups, dump station, and central service building including showers and restrooms. Book Now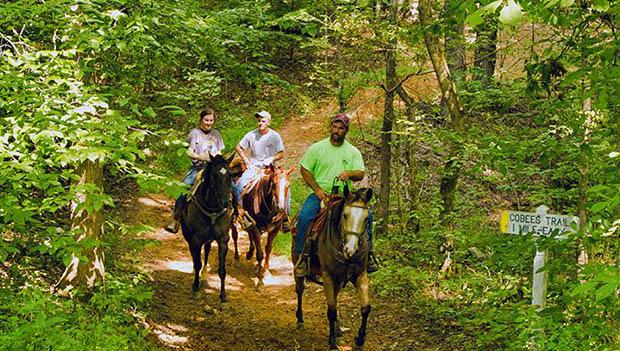 ---
Recommended: Where to Camp Near the Kentucky Bourbon Trail
---
Southern Region
The southern region of the state offers four unique state parks below to book your next adventure.
Explore Barren River Lake State Resort Park
Between Glasgow and Scottsville is a large body of water called the Barren River with a 10,000-acre lake and sandy beach. The environment provides home for wildlife making it a destination for birding and fishing enthusiasts that might even be spotted along the 18-hole golf course. The campground has 101 sites with utility hookups, a dump station, and two central service buildings with showers and restrooms. Reserve Today
Stay and Play at Lake Cumberland State Resort Park
Just 1.5 hours east of Barren River State Resort Park is Lake Cumberland with 52,00 acres to explore. Take your boat around and try your luck catching largemouth, smallmouth, white and Kentucky bass, bluegill, crappie, rockfish, and walleye. Enjoy some friendly competition on the mini golf or disc golf course, or hike along two trails with scenic overlooks along the lake. Stay at the campground with 76 tent and 11 full-service sites. You'll want to stick around the forested sites to enjoy the fall colors. Book Now
Visit General Burnside State Park
Located one hour east of Lake Cumberland State Resort Park and on the far east end of the lake is General Burnside Island State Park. There are additional boating, fishing, picnicking, and hiking opportunities from a different part of this scenic lake, as well as an 18-hole golf course. The campground features 94 sites with utility hookups, two central service buildings with showers and rest rooms, and a dump station. Learn More
Discover Cumberland Falls State Resort Park
Continuing another 40 minutes east from General Burnside Island you'll discover the largest waterfall south of the Niagara, Cumberland Falls. The resort park is also a hiker's paradise with 17 miles of multi-use hiking trails connecting it to the Daniel Boone National Forest. Extend your visit at the campground with 21 standard electric and 29 tent sites. There is a central service building with showers and rest rooms, a grocery, community pool, and a dump station. Reserve Now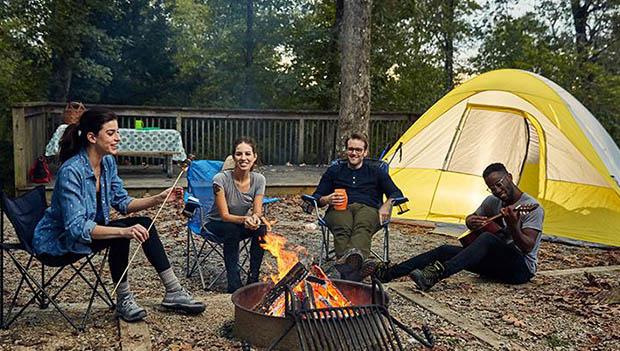 ---
Are you ready for your next adventure? Plan your camping trip!
---