How to Plan a Camping Road Trip
ReserveAmerica, Thu Jul 21 2022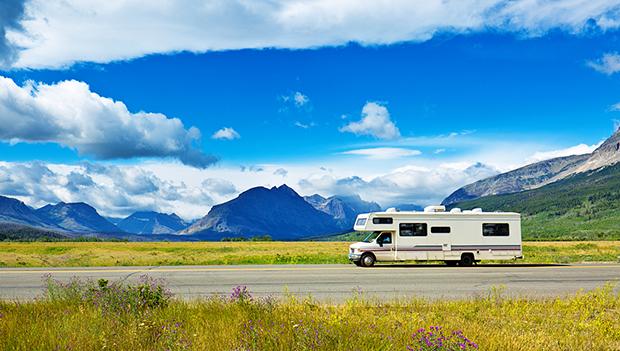 If you're new to planning an epic camping road trip, ReserveAmerica is here to help with this step-by-step guide.
Learn everything you need to know about how to plan a camping road trip, from generating trip ideas to booking a site, all the way up to and including selecting gear and setting up your camp.
---
Step 1 - Determine Your Destination
While this first step may sound easy, with so many natural wonders and amazing campgrounds in our country, identifying one campground destination - let alone a handful for a multi-stop camping trip itinerary - can be challenging.
If you already know where you want to go, great! Go on to the next step and make your reservations. If you aren't sure where to go, we have an extensive set of outdoor articles that feature:
Additionally, the campground facilities and activity opportunities are listed for each campsite on our website, so you can better match a campground to your desired trip.
---
Recommended: Helpful Booking Tips for Visitors to ReserveAmerica's Website
---
Step 2 - Make Your Campground Reservations
Now that you know where you want to go, book your stay! Popular campgrounds fill up quickly during the summer season and holiday weekends. Even with less-trafficked parks, it's advisable to make your reservations as soon as possible after establishing your camping trip itinerary.
One way to ensure you get the campground you want is by knowing the booking window. This is the period of time - usually between six months and a year - that reservations open up at a campground.
ReserveAmerica makes it easy to book your site. Simply search our website for a campground or region, click on your preferred site, and then select the Booking link.
Hot Tip: If you're traveling with an RV, be sure that the site accepts your vehicle length.
---
Recommended: Great Summer RV Trips for Families
---
Step 3 - Getting Your Vehicle Ready
One of the least pleasant things that can happen on a camping trip is enduring vehicle issues. Knowing how to plan a camping road trip successfully includes being able to avoid vehicle problems by getting everything ready in advance. If it's been a while since your vehicle was last checked, take it into the shop before you hit the road. Also, have a spare tire and equipment for changing a flat (and know how to change it).
A camping trip itinerary that includes heading down back roads may not have cell service, so have an emergency kit just in case. And if you're planning on doing any off-roading, only use a vehicle that can withstand it, preferably one with all-wheel drive.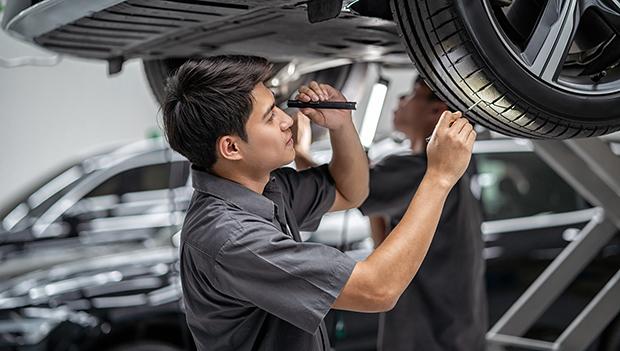 ---
Recommended: 10 Must-Bring Camping Essentials
---
Step 4 - Loading Up the Gear
The type of camping you're doing - such as cabin, RV, tent, or primitive - will determine what type of gear you should bring. The expected weather conditions and planned activities will be the other two big factors in determining what to load up in the car.
For example, a tent camping weekend at the same campground in brisk, early spring versus months later in the height of summer will require modifying your packing list. Also, know how to use or set up all of your gear ahead of time. Just bought a new tent? Practice pitching it in the living room before you're out in the elements.
---
Recommended: Tips for Buying Camping Clothes
---
Step 5 - Pack the Right Food
Again, the type of camping, weather, and planned activities you have will dictate what food to bring. If your camping trip itinerary includes primitive camping or lack of access to supplies, plan on bringing all the food you need. Planning on spending long hours on a trail on foot or bike? Be sure you have enough calories to sustain your adventure.
If you're spending a number of hours in the car before reaching your campground, consider getting most of your perishable foods when you're closer to your destination. This will help keep your food fresh.
---
Recommended: Easy and Nutritious Hiking Lunch Ideas
---
Step 6 - Just Before You Go
A key step in how to plan a camping road trip, but one often overlooked, is what you should do just before you go. Check for any road closures on the way to or at the park. Double-check the weather in case you need to make any last-minute gear or travel adjustments.
Finally, be sure to give yourself plenty of time to get to the campground. Factor in driving times, traffic delays, and stops along the way for breaks and food. Plan on arriving while there's plenty of daylight, since setting up a camp in the dark is difficult.
---
Recommended: Camping Trip Ideas to Remember
---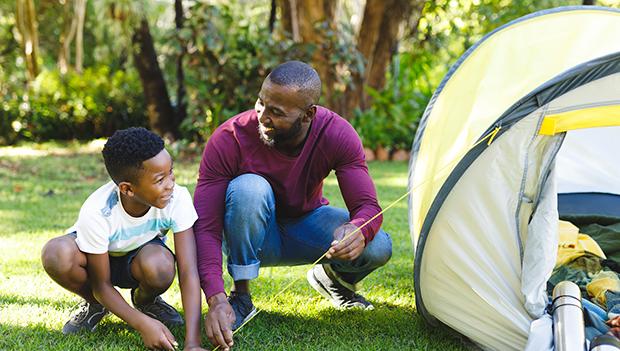 Step 7 - Setting Up Camp
You're finally there! It's time to settle in and unload the car. One of the first things you'll want to do is find out where the bathrooms and water supply are, and if there are any other facilities you'll need like a dump station.
If you're pitching a tent, identify a flat area free of rocks and debris (you may need to clear it). Set up the tent away from the cooking area and trash.
Properly store food and trash at all times to prevent critters from getting in. It's also a good idea to keep lanterns and headlamps in your sleeping and cooking areas.
Now go have fun!
---
Are you ready for your adventure? Plan your camping trip!
---