The Ultimate Guide to Camping With Dogs
ReserveAmerica, Tue Aug 25 2020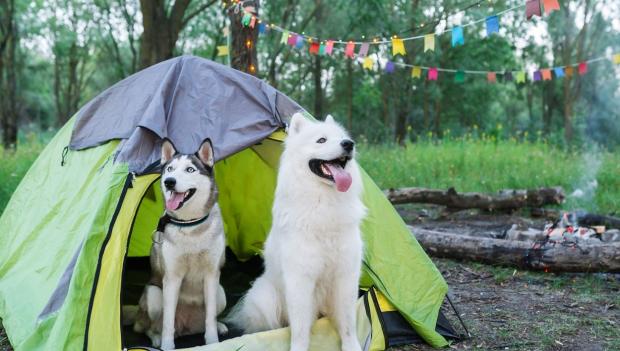 It's always hard to leave your beloved four-legged companions behind, and it's even harder when you go camping. While you're hiking, swimming and playing in the great outdoors, your dog is pining away for you at home. Just think of all the adventures you could share with your devoted companion with a little advanced planning and a dog-friendly destination.
The Rules of Pet Camping
Following proper pet-camper etiquette makes for a happy, healthy pooch and a trouble-free outdoor getaway. Arrive at camp prepared with poop scoop bags; a dog towel and grooming brushes to keep your dog's coat free of dirt, twigs and bugs; a hearty supply of your pup's favorite food and treats; pet meds, including flea and tick prevention medication; and plenty of clean drinking water for the drive and the hours you'll spend hiking and playing in the park. Make sure all of your dog's shots are up to date and keep a vaccination record in your glove compartment.
Research your camping destination ahead of time for toxic plants and wildlife that may pose a threat to canines, and follow these simple and universal pet-camping rules: keep your dog under control and on a six foot leash, never leave your dog unattended or tied up outside your tent or RV, and keep barking to a minimum, especially during campground quiet hours.
Experience camping with your pet at these dog-friendly campgrounds in America.
Camp in the dunes for a short stroll to swimming and pet-friendly beachcombing on the Atlantic Ocean. Fish off the pier on Delaware Bay for shad and perch, and visit historic Fort Miles, a key piece of America's coastal defense during World War II.
---

Enjoy sunrise and sunset over Clarks Hill Lake from your pet-friendly campsite or cabin. Located on a peninsula with plenty of shoreline for water play, Mistletoe has over 15 miles of dog-friendly hiking trails. If you and your pooch also like to fish together, Clarks Hill Lake happens to be one of the best spots to catch bass in the region.
---
Your dog can embrace vacation mode and lounge in the comfort of a pet-friendly lodge room or cabin while you enjoy swimming, boating, fishing, tennis and everything else this resort park offers, all just minutes from Land Between the Lakes.
---
Recommended: Wildlife Experiences for the Whole Family
---
Explore 107 acres of rolling prairie on Cherry Creek, all with your dog off leash and free to run, at one of the largest fenced dog parks in the region. There are also 35 miles of biking and hiking trails, plus boating, sailing and fishing for walleye, muskie, pike and bass on the lake.
---
Pups are welcome at Lovewell Lake's tent and RV campsites, and some cabins, all on a wooded peninsula with views out onto the 2,986-acre lake. If you and your dog are fishing buddies, the white bass, catfish, crappie and walleye are biting. You'll find horseshoes, picnic tables, a playground, disc golf, basketball and sand volleyball at the swimming beach.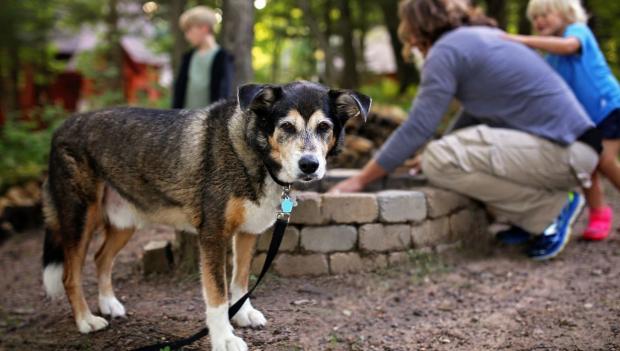 ---
Recommended: 9 Fantastic Forest Regions to Explore
---
RV or tent camp in the largest state park in southeast Florida to take your dog hiking on the Florida Trail and boating on the Loxahatchee River. When your pup's had enough, hit the singletrack trails or greenways on your bike, learn about park history on a river cruise, take a dip at the grassy swim area or go fishing for largemouth bass, snook and snapper.
---
The oldest state park in the Pacific Northwest welcomes dogs and their owners to stay in three campgrounds, cottages and rustic camper cabins. The 72-mile Trail of the Coeur d'Alenes goes right through the park for as much pet-friendly hiking as you like. See even more of the trail on your bike, then paddle, swim and fish for pike, large and smallmouth bass on Chatcolet Lake.
---
You and your pup will love splashing in the stair-step pools along trails that follow Bee and Mescal Creeks through Texas Hill Country. Swim, tube, canoe or kayak the Pedernales River as it flows gently over limestone slabs that are tailor-made for a picnic break. The next day you can explore by horseback or mountain bike 10 technical miles on the Juniper Ridge Trail.
---
Check with your Local Government Organization
Many policies have been established to counter and control the coronavirus outbreak. State and local officials have been taking decisive action to stop the spread. The policies vary by state, sometimes to a great degree. When you book a reservation, make sure to review the park and state's latest rules and regulations prior to your visit.
For COVID-19 updates, please visit our Impacted Park List and Reservation Guide for the latest information.