Where to Go Glamping
ReserveAmerica, Tue Oct 4 2022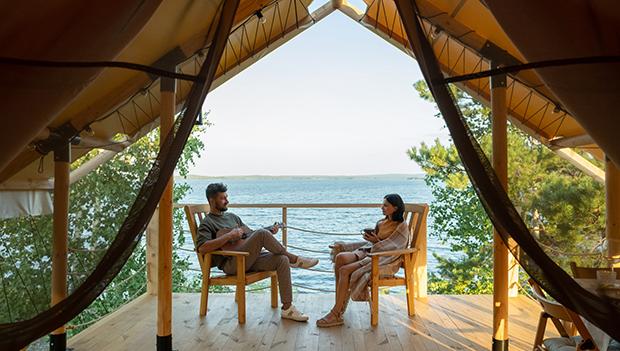 In recent years a new style of camping has opened up another way to experience the outdoors. Glamping takes traditional camping up a notch by incorporating creature comforts into your trip. Enjoy closeness with nature with luxury amenities like beds, lighting, running water, and full bathrooms.
After deciding to take the plunge on a glamorous camping trip, your next question is likely: where to go glamping? The good news is that there are fantastic glampsites all across the country. Below are six state parks with cottages, cabins, campers and more that serve as the perfect backdrop for your glamping trip.
---
Recommended: How to Go from Camping to Glamping
---
Located on the banks of the historic Snake River, Hells Gate State Park is a lush paradise in southwestern Idaho right on the Washington border. Glampers can stay in eight cabin campers that are open year-round. These one-room cabin campers have power, heat and are air conditioned. Each glamping spot sleeps up to five people on double futons and bunk beds. Amenities include a dining table with benches, a picnic table, a fire pit with grill, and a porch swing. The cabins are near the central restroom and water faucet and are located in the shade of large pine trees.
Take in the natural splendor of the area on foot or by boat along the river. There is also the Lewis and Clark Discovery Center and the Jack O'Connor Hunting Heritage and Education Center to learn more about the history of the region.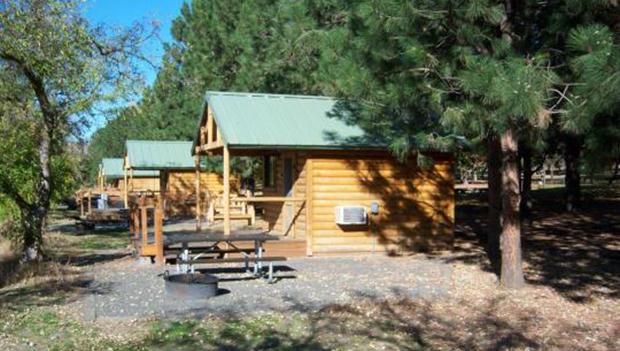 ---
Situated on the shores of Lake Lanier, Don Carter State Park is a destination for boating and outdoor lovers. Boat ramps provide quick access to the lake, and a multi-use, paved trail takes hikers and bikers into the hardwood forest. There are also water trails for paddlers to discover the lake's inlets.
This spot in Georgia is on our top places of where to go glamping due to the stunning two-bedroom cottages that are perched on wooded hillsides above the lake. Each bedroom has 2 queen size beds with linens, allowing the cottage to accommodate up to eight people. There are two full baths, a fully equipped kitchen, heat and a/c, cable TV, and a wood burning fireplace. The outdoor living area has a picnic table and grill.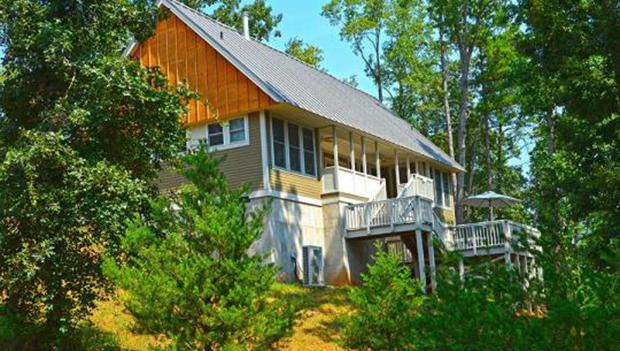 ---
Recommended: DIY Glamping: How to Decorate Your Campsite
---
Cowans Gap State Park is located in south-central Pennsylvania in beautiful Allens Valley. The area is characterized by oak forests with groves of pine, hemlock, and red maple. The rolling woodlands are interrupted by the waters of Cowans Gap Lake, the park's centerpiece. There are plenty of hiking trails to explore the forests and the lake makes for a fun day of boating or fishing in warm months, or ice skating and ice fishing in the winter.
The park boasts ten cabins, each equipped with a stove with an oven, refrigerator, lights, outlets, a simple cupboard, table and chairs, a wood-burning fireplace insert, and an outdoor table and fire ring. The Shower House is located near the cabins. Campers should be aware that the only source of heat in the cabins is a wood-burning insert and bring or buy their own wood.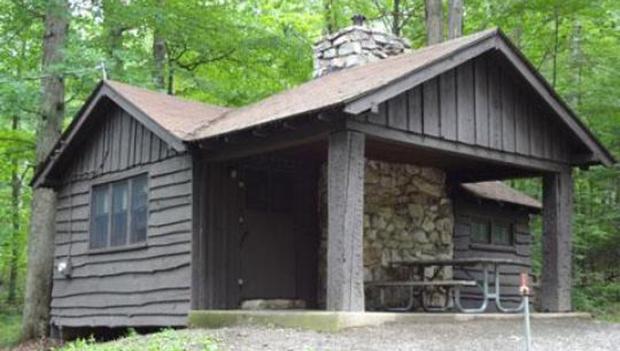 ---
La Pine State Park is located about a half-hour's drive south of Bend in central Oregon. The famous Deschutes River winds through the park, offering tubing and swimming opportunities. Multi-use trails bisect the high desert forest landscape filled with lodgepole and ponderosa pines.
There are ten cabins available, including five basic and five deluxe. All cabins have electricity, heat, water, picnic tables, and a fire ring. The basic cabins have a deck and two beds. The deluxe cabins are on the all-star list of where to go glamping. They have wide wraparound decks and the interiors are larger with more furnishings, including double beds, bunk beds, a futon couch, refrigerator, sink, microwave oven, and a full bathroom with a shower.
The campgrounds close on November 15th, so get your reservations now!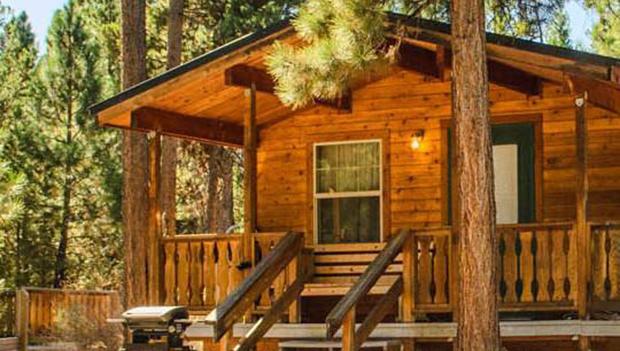 ---
Recommended: 5 Picturesque Cabins & Campgrounds with Lakes to Visit This Fall
---
When deciding where to go glamping in Kentucky, Dale Hollow Lake State Resort Park should be on the list. Located in south-central Kentucky near the Tennessee border, this park is loaded with plenty of recreation activities, including a 18-hole championship golf course, 60 room lodge, convention center, dining room, and full-service marina with boat ramp. Multi-use trails take hikers, bikers, and horseback riders through the rolling forested hills.
Glampers will love the cabins that come with a full bed, twin bed, table, chairs, and outdoor picnic table. Each of the six cabins also has heating and air conditioning, and running water is available outside the cabin. The cabins do not have full baths, but guests can use the three bath houses located in the campgrounds.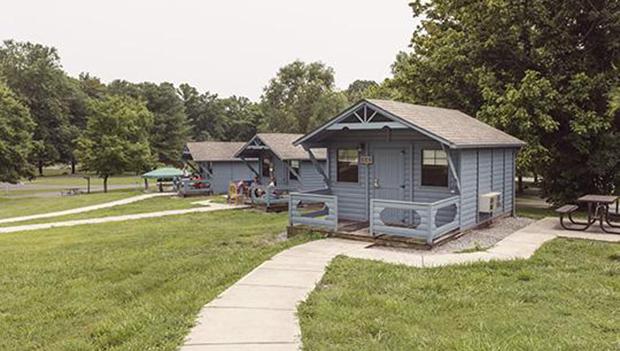 ---
Caddo Lake State Park is a three hours drive due east from Dallas on the Louisiana border. It rests on the shores of the Big Cyprus Bayou adjacent to Caddo Lake and the Caddo Lake National Wildlife Refuge. The entire area is a sprawling maze of piney woods, bayous, and sloughs covering nearly 30,00 acres of cypress swamp. The lake itself is one of the few natural lakes in the state and its deep waters contain 71 species of fish, and is a prized spot for fishing crappie, largemouth bass, and white bass. Naturalists will love the unique vegetation, including American lotus, water lilies, and of course the stately cypress trees, and can spot many forms of wildlife, such as armadillos and deer. Paddlers can venture onto 50 miles of water trails in the park and the larger Caddo Lake area.
Glampers can stay in one of ten historic cabins that can sleep two to eight people, depending on the cabin size. All cabins are furnished, have full baths, a partial kitchen, a deck with a seating area, and an outdoor grill and picnic table.
Make Your Cabin Reservation Today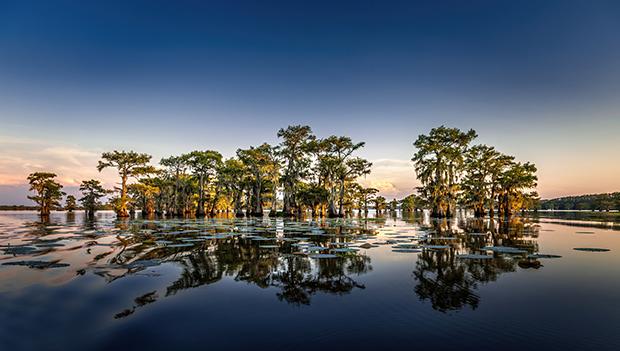 ---
Are you ready for your adventure? Plan your camping trip!
---