9 Places for Trout Fishing this Spring
ReserveAmerica, Thu Feb 17 2022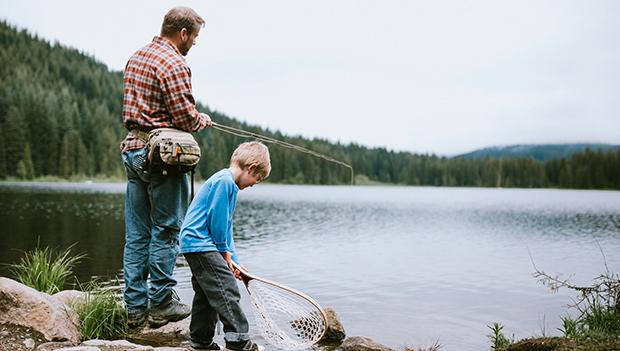 Spring is considered the best time for trout fishing in many locations. As freezing water temperatures warm up, trout are eager to eat, greedily snapping at lures. Below are nine top campgrounds for trout fishing this spring.
Join Apex Club today to stay for free at these trout fishing campgrounds, and over 900 ReserveAmerica.com rebate eligible state and regional parks.*
---
Varieties in this area: Brook trout, brown trout, rainbow trout, and tiger trout
The American Legion State Forest is a densely forested area with the Farmington River winding through it. The West Branch of the river, designated a Wild and Scenic River by the National Park Service, is a fantastic spot to cast your line for trout. The waters, which come from West Branch Reservoirs and Colebrook Reservoir, stays cool in summer, but doesn't ice over in winter; making it an ideal spot for the proliferation of the stocked trout.
Connecticut Fishing License Info
---
Recommended: Spring Fishing and Tackle Preparation
---
Varieties in this area: Brown trout and rainbow trout
Kansas is known for its catfish, walleye, and crappie, but the state has sought to change their reputation and have been stocking rainbow trout in lakes across the state. The reservoir at Kanopolis State Park, however, gets both rainbow and brown trout. The trout are stocked below the reservoir's dam, an area with cooler water temperatures that can sustain the brown trout. Trout season runs from November 1 to April 15 and a special trout permit is required to take trout.
---
Varieties in this area: Cutthroat trout and rainbow trout
Staying at Campground by the Lake in South Tahoe offers you two fantastic spots for April trout fishing. Fallen Leaf Lake, less than a 20 minute drive away, is a scenic lake that offers nice-sized catches of rainbows. What's more, cutthroat trout, which became extinct in the lake several decades ago have been reintroduced. A worthwhile fishing spot year-round, Fallen Leaf Lake is especially frutifull during spring runoff. As with most lakes, your best times for shore fishing are early and late in the day when the trout are near the surface feeding.
There are plenty of tributaries and lakes around Lake Tahoe that have fantastic trout fishing. The trout fishing season can vary from location to location, so be sure to double check regulations before casting your line.
California Fishing License Info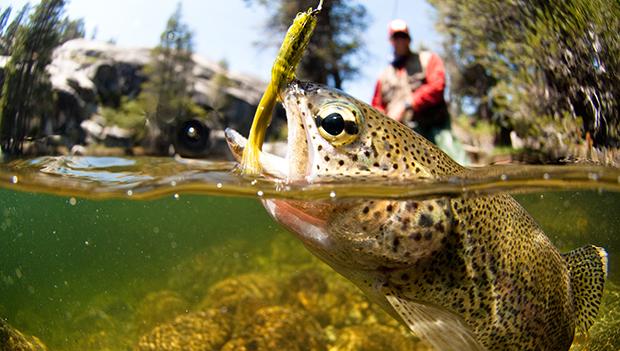 ---
Varieties in this area: Brown trout, cutthroat trout, and rainbow trout
Trout anglers have their pick of the litter when it comes to trout fishing in Rifle Falls State Park. Rainbow, brown, and cutthroat trout are all well-stocked in East Rifle Creek, which flows straight through the park. Besides the diversity of trout fishing, the area is lush thanks to the cascading triple waterfalls.
---
Varieties in this area: Brook trout, lake trout, and rainbow trout
Minnesota is one of the few states where lake trout naturally reproduce. Lakes through the state boast fantastic trout fishing. The trout move to shallow waters after the ice breaks, and then return to deeper waters in summer, making springtime ideal for shore trout fishing. How great is lake trout fishing in Minnesota? The state record is 43 pounds, 8 ounces. Set up camp on the shores of Lake Superior at City of Two Harbors Burlington Bay Campground.
Minnesota Fishing License Info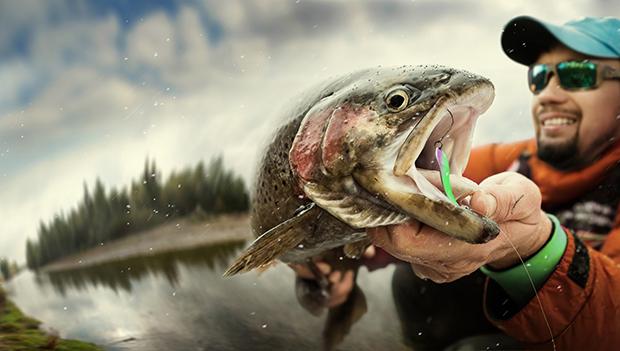 ---
Recommended: 9 Great Campgrounds for Summer Fishing
---
Varieties in this area: Brook trout, brown trout, and rainbow trout
Seven miles of trout stream wind its way through Yellow River State Park, a picturesque park with hardwood and coniferous forests. The stream is the longest cold water trout stream in the state, and is stocked from April through October. Anglers will need a trout stamp to reel in their catch.
---
Varieties in this area: Bull trout, cutthroat trout, and rainbow trout
Located in the northwest portion of Idaho, Dworshak Reservoir in Dworshak State Park is an outstanding and large fishing lake, coming in at over 25 surface miles. Much of the 175 miles of shoreline is accessible by boat, and rainbow, cutthroat, and bull trout are regularly stocked in its waters. As to be expected of the area, the landscape is a wilderness lover's dream with forests of pine, fir, and cedar, in wide meadows with steep rolling hills.
---
Varieties in this area: Large rainbow trout
The reservoir in Prineville State Park is considered the best spot for fishing in Central Oregon. Rainbow trout are regularly stocked here and fatten up in the lake's fertile waters. The large reservoir is also very good for bass, panfish, crappie, and catfish.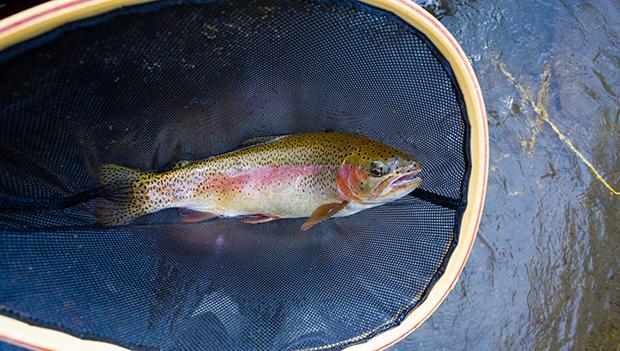 ---
Recommended: How to Become a Better Fisherman
---
Varieties in this area: Rainbow trout
On any trout fisherman's bucket list would be the granddaddy of all trout fishing trips: to the rivers and lakes of Alaska. Trout fishing is top-notch throughout the state, with the Kenai River and its tributaries on the Kenai Peninsula being a standout. Johnson Lake State Park is in the heart of the Kenai Peninsula and offers fishing at its namesake lake, as well as the Kenai River and a bevy of streams and lakes all within a short drive. Trout fishing is at its best in Alaska in April. After 6 months of freezing temperatures, fish are in a frenzy to eat, grabbing at insects bait with abandon. Besides rainbow trout, the area is teeming with pike and grayling.
---
Are you ready for your adventure? Plan your camping trip!
---
*Apex Club rebate not valid at Campground by the Lake, California or City of Two Harbors Burlington Bay Campground, Minnesota. Trips must be booked directly on ReserveAmerica.com.
---
Check with your Local Government Organization
Many policies have been established to counter and control the coronavirus outbreak. State and local officials have been taking decisive action to stop the spread. The policies vary by state, sometimes to a great degree. When you book a reservation, make sure to review the park and state's latest rules and regulations prior to your visit.
For COVID-19 updates, please visit our Impacted Park List and Reservation Guide for the latest information.