Hunting Mentor Opportunities - National Hunting & Fishing Month
ReserveAmerica, Fri Sep 27 2019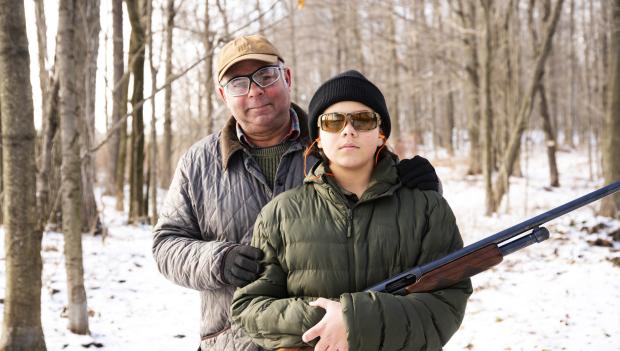 Hunting or fishing with a mentor is a valuable learning experience. An experienced hunter or fisher has a lot to offer new outdoorsmen, paving the road for a lifetime of outdoor sportsmanship. If you are interested in becoming a hunting mentor or mentee, read on to learn about events and organizations that facilitate hunting mentorships.
Resources for Finding a Hunting Mentor:

1.) National Hunting and Fishing Day on the fourth Saturday of September both feature events nationwide for novice hunters.

2.) Visit your state's fish and wildlife department for an apprentice hunting program.

3.) Hunter education classes teach you essential hunting skills and can be a great networking opportunity to find a hunting mentor.

4.) Some conservation organizations offer hunting mentoring opportunities.

5.) Organizations dedicated to teaching women hunting skills also provide hunting mentorships.
Keep reading to learn more!
---
Also Recommended: How to Get a Hunting License
---
National Hunting and Fishing Day
National Hunting and Fishing Day is celebrated every fourth Saturday of September to raise public awareness about environmental and wildlife conservation and its intersection with hunting and fishing. On this day, fishing-and hunting-related events are offered in communities around the country to give participants the opportunity to learn more about these sports.
Admission to the events is usually free. To find an event near you, simply search for National Hunting and Fishing Day events near you.
Visit Your State's Fish and Game Department
Most state fish and game departments have mentoring or apprenticeship programs for inexperienced hunters. Many of these programs do require novice hunters to be accompanied by an experienced hunter with a valid hunting license. Below are some examples of state hunting mentorship programs:
Connecticut Junior Hunting Training Days
The state designates specific days when experienced hunters aged 18 or older are encouraged to take adolescents aged 12-15 hunting. The idea is that the mentor helps the junior hunter learn safe and effective hunting practices, sound observational skills, and gives them the confidence that facilitates a passion for hunting and the outdoors. The program outlines that the mentor cannot carry a firearm and must remain near the mentee, providing direct supervision and instruction at all times.
Mississippi Apprentice License
The state encourages hunters to share the excitement of hunting with a new hunter by providing Apprentice Hunting Licenses. These are only issued once to first-time hunters who have not taken a hunter's education course. Four different types of apprentice hunting licenses are available for residents, who must be accompanied by a licensed or exempt resident hunter who is at least 21 years old.
Minnesota Apprentice Hunter Validation
Minnesota's Apprentice Hunter Validation allows individuals to hunt in two license years under the supervision of a licensed adult hunter. This allows the apprentice hunter to try out hunting before completing the Firearms Safety (FAS) Certificate training program. Apprentice hunters are allowed to hunt deer, turkey and small game. Apprentice Hunter Validation can be purchased at an electronic licensing system (ELS) vendor.
California Apprentice Hunts
California Department of Fish and Wildlife offers hunt opportunities specifically for individuals with limited experience or opportunity to hunt on their own. Apprentice hunters apply and are chosen by lottery. The system is open to any hunter with a current California hunting license. Apprentice hunts are staffed by department employees and trained volunteers who provide assistance and instruction on hunting skills and safety practices.
---
Recommended: How Much Is a Hunting License
---
Take Hunter Education Classes
Most states require that would-be hunters take a hunter education class as part of applying for their hunting license. Class instruction typically includes sportsmanship and ethics, wildlife management and conservation, wildlife identification, game care, survival skills, first aid, and training in firearms safety and handling. Most courses are about 10 hours long and can involve online learning, in-classroom instruction or field training.
Many of these classes have a mentor component to them. As such, you likely will be pointed towards a mentor through the program if you do not have one already.
Find Conservation Organizations
Conservation organizations have also stepped up to help inexperienced hunters find mentors to teach them critical hunting skills. For example, Pheasants Forever - an organization dedicated to the conservation of pheasants, quail and other wildlife - provides hunting mentors for children, and at some chapters, for novice adult hunters.
Hunting Mentor Programs for Women
Women are the fastest-growing segment of the hunting market. From 2015-2018, female hunters grew by 57 percent, according to a survey conducted by Shoot Like a Girl (SG). This organization, and others like it, focus on helping women develop hunting skills, including in archery and firearms use. Becoming an Outdoors Woman (BOW) is another group that is helping women who aspire to hunt, but otherwise don't have the opportunity to learn essential hunting tactics and safety measures. Training with these organizations typically involves a series of workshops and excursions in not only hunting-related skills, but other outdoor sports like kayaking.
---
Recommended: 9 Reasons Women Should Hunt
---
Take the next step! Find your individual State's information here