America's Best State Park Experiences for Fall
ReserveAmerica, Thu Sep 22 2022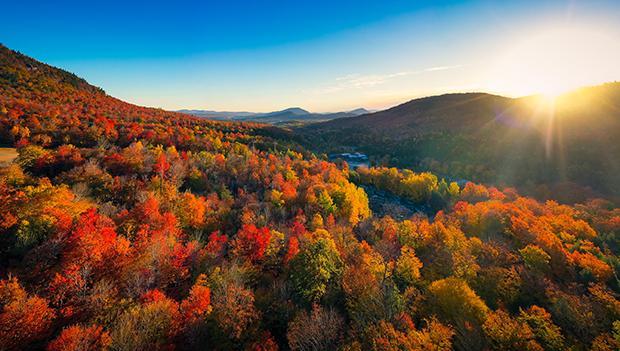 Don't get us wrong, we love our national parks—Yosemite Valley and the Grand Canyon look especially nice wearing fall colors. But why not ditch the crowds and lines at busy national parks and instead opt for a unique and less traveled destination? From Colorado to New York, America's state parks are waiting to win you over with natural beauty and seasonal charm this autumn.
With the weather cooling and colors changing, fall is arguably the best time of year to explore America's hidden gem state parks across the country. We narrowed down six must-have fall experiences to inspire your outdoor wanderlust. Pick your adventure and fall for America's state parks this season.
---
Recommended: Memorable Fall RV Road Trips to Take This Fall
---
1. Paddle Through a Swampy Fall Setting
A southern swamp ecosystem meets a hardwood forest in a unique setting at Merchants Millpond State Park. Take in the massive bald cypress trees, beech groves, Spanish moss and exotic wildlife, and of course the colorful leaves of deciduous trees in autumn. Canoes are available for rent or visitors can bring their own for a memorable paddling experience. The beautiful pond is surrounded by picnic grounds and nine miles of hiking trails give campers the option to explore the area on foot.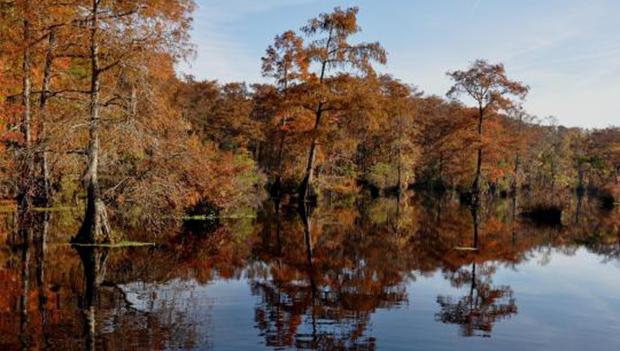 ---
2. Meander on Horseback
It's no secret that Colorado boasts some of the best state parks in the country, and one of the best ways to experience its natural beauty is on horseback. The Mule Deer Trail is a 7.4-mile loop through Golden Gate Canyon State park that climbs 880 feet of elevation gain. While hiking is a popular activity year-round, horseback riding is a highly recommended autumn experience while surrounded by the changing colors of fall. You can park your horse trailer at the Kriley Overlook and ride to the Mule Deer Trail from the Blue Grouse Trail. At only 30 miles from Denver, Golden Gate Canyon State park is easily accessible and perfect for family or group retreats this holiday season.
---
Recommended: 5 Best Camping Destinations for Fall Foliage
---
3. Walk in the Footsteps of Giants
Just a short drive from Fort Worth, Dinosaur Valley State Park transports you back in time to when giants roamed the earth. The bed of the Paluxy River is lined with ancient sauropod and theropod footprints that are easy to find when the water is low. Kids of all ages will love exploring the region's fossils on foot, as autumn temperatures cool down and hiking adventures heat up with excitement. Fall backpacking is a popular activity, as are fishing and guided horseback riding tours. Get the most out of your dinosaur hunting quest by downloading dinosaur track maps on your phone.
Make Your Fall Trip Here Today
---
4. Step Back in Time to a Fall Gone By
Kooser State Park is located in the heart of the Laurel Highlands with acres of forest and long stretches of a beautiful trout stream that flows the full length of the park. Step back in time with a park designed by the Civilian Conservation Corps in the 1930s, which established the existing lake, building architecture, and the park layout. Picnic, fish, or hike under the changing leaves and among the charming park developed nearly 100 years ago.
---
Recommended: Wonderful Cabin Rentals for Fall Foliage Viewing
---
5. Take to the Skies
Voted the best attraction in New York state in 2017, Letchworth State Park has something for everyone. In addition to the renowned nature and history programs, many visitors take advantage of the rafting, kayaking, and hunting in the park. If you crave something outside the box this fall, take to the skies by hot air balloon and enjoy the postcard-worthy autumn views of the waterfalls on the Genesee River, lush forests, and dramatic landscapes. Balloons Over Letchworth is the only company to launch in this area, so check availability and book a reservation with them here.
Book Your Stay for a NY Fall You Won't Forget
---
6. Outdoor Enthusiast's Fall Getaway
Bear Brook State Park is the largest developed state park in New Hampshire and is the backdrop for some gorgeous fall foliage and amazing outdoor adventures. Located in the southeast region of the state, campers can hike and bike through the forty miles of trails bisecting the thick forests that turn radiant come fall. Water enthusiasts can bring their crafts, or rent canoes at Beaver and Catamount Ponds, or rowboat rentals are available at Beaver Pond. Fly-fishing lovers flock to Archery Pond, and a dedicated kids pond across the way. There are also two archery ranges to practice your shot.
Book Your Autumn Camping Vacation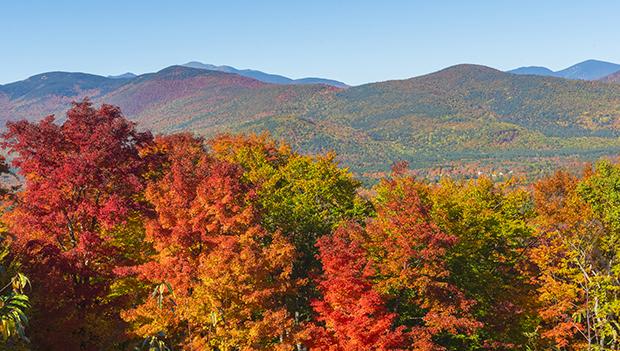 ---
Are you ready for your adventure? Plan your camping trip!
---